Victoria Vale finally fucks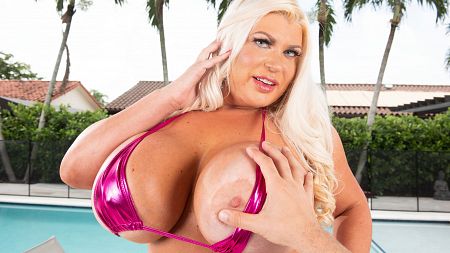 "Do you like my new titties?" mega-chested 46-year-old Victoria Vale says at the start of this scene. They're encased (barely) in a tiny bikini top, although we have a feeling that the bikini she's wearing would fit most women. Victoria, however, is not most women. She's a SCORE Girl who super-sized her tits even further, and her bikini is concealing just her nipples. Although not for long. Very quickly, her tits come all the way out and it's game on!
Victoria is outdoors, poolside, and she has some company. This guy loves mature women and he also loves big tits. Victoria loves having her nipples licked and sucked, and there's plenty of that. But the real attraction of this scene is Victoria sucking and fucking cock on-camera, something she didn't do when she first modeled for SCORELAND in 2017. Now, she's all-in!
"I was both nervous and excited before the shoot," Victoria said. "I'm a pretty sexual person, but putting that sexuality out there, on video, is a big step. You never know how well that will translate. I have revisited the scene in my mind many times since then, both during masturbation and sex! It has absolutely enhanced my sexuality in numerous ways."
40Something: How important is breast play during sex?
Victoria: Very! I absolutely love having my breasts played with and fondled during sex. I love having my nipples lightly sucked and giving the guy the Russian treatment.
40Something: Do you have a favorite position for tit-fucking?
Victoria: On my knees or with the guy straddling my chest.
40Something: What do you think about when you watch your videos?
Victoria: I cringe. It's still hard to look at myself on film without being overly critical of myself.
40Something: Trust us, you look smoking hot. You once told us that you masturbate while watching porn. Is there any kind of scene or sex act in particular that makes you the horniest?
Victoria: All types. I love big-boob MILF porn. I adore Alura Jenson. Also interracial and some fetish stuff, such as domination and cuckolding.
40Something: Do you like porn with stories or just action?
Victoria: Both!